Are you interested in toxin-free makeup in Troy. Follow the link below to shop for Crunchi makeup.
---
Toxin-Free Skincare and Makeup in Troy
Your skin is your largest organ! It's tempting to ignore the toxins that we absorb daily through our skin. Replacing conventional makeup with a toxin-free, high-performance alternative is smart, but replacing typical skincare is ESSENTIAL!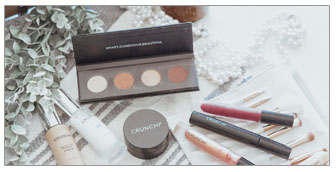 OFFICE HOURS
---
Monday
8:00am - 12:30pm
2:15pm - 6:00pm
---
Tuesday
8:00am - 12:30pm
2:15pm - 6:00pm
---
Wednesday
Closed
---
Thursday
8:00am - 12:30pm
2:15pm - 6:00pm
---
Friday
8:00am - 12:30pm
---
Saturday
8:00am - 12:30pm
(First Saturday of Every Month)
---
Sunday
Closed